During the chat on October 27th, we will be doing some drawings for some prizes donated by some great sponsors. Please take a few minutes to check out these fabulous and generous prizes!
If you are a member of the cmomb forum, you will note that there is a discount code for one of these items, so be sure to check out this same post there.
The Growing Homeschool
Integrating Babies and Toddlers into Your Already Busy Schedule
by Cynthia Carrier

We homeshooling Moms wear many hats. We often feel pressured to perform and wonder if we can truly do it all. Throw little ones into the mix, and our days can quickly become overwhelming. The Growing Homeschool can help!
Defeating Depression Audio Seminar
Cooperating with God to Experience Victory over Negative Emotions
by Cynthia Carrier
The Blues. The Blahs. Discouragement, Despair, Depression. Whatever you happen to call those feelings, we buy prednisone with mastercard all experience them at one time or another. Whatever the cause, there is no easy cure and no "quick fix." However, there are some buy accutane without insurance practical steps you can take to fight back against emotional negativity. Do the practical things, and then get to the root of your emotional struggles by focusing on God and His Word. Our struggle is not against flesh and blood–and the battle is ultimately the Lord's. Cooperate with God to experience victory over your negative emotions!
Growing to be Like Jesus
A Color & Learn Activity Book
by Cynthia Carrier
This 54-page Color & Learn Activity ebook is a perfect first step for your little ones!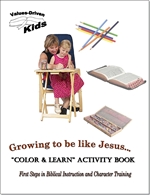 Designed by a homeschooling Mom of 6 children (and former preschool teacher), this coloring book invites children to learn more about the truths of God's Word by focusing on twelve key character traits: faith, surrender, love, faithfulness, wisdom, self-control, righteousness, holiness, humility, diligence, generosity, and praise. There are four coloring pages for each trait, which include a Bible verse and a simple affirmation so that children can apply God's Word in practical ways to their own lives.
Also included is a short letter to children, explaining to them how God wants us to grow to be more like Jesus each and every day. You'll also find a Character Training Dictionary for parents, with definitions and Bible verses for study that will help parents and children alike to grow in the twelve character traits covered in the coloring book.
A Play What You Mean Activities eBook
By JoJo Tabares of Art of Eloquence
Children love to play and play is how the Lord intended young children to learn. It is through play that children learn best. The more fun and entertaining something is, the more a child will be willing to learn and the more the child will retain.
This eBook is designed to help parents foster communication skills in young children. Some of these are blasts from the past (with new variations), games that I played as a child…only I didn't know what they were teaching me! In today's techie society, our children have lost touch with these old fashioned games that taught so much about life. I bring them back to your memory and tell you what communication skills they teach.
Of the People… Election Process Unit Study
by Linda Coats
Of the People, By the People, for the People unit study is just the ticket to help your kids understand the entire process from nominating primaries and caucuses to the electoral college.
Geared for upper elementary and middle school ages, this fascinating study includes resources for both older and younger learners, making it easy for families to study together.
Clean 'N' Flip Combo (set of all three flips)
by Trigger Memory Systems
This fun & unique system is designed to help children visually and systematically work through cleaning the three main rooms of a house independently, and with ease.
Step-by-step illustrations make it easy — non-readers can easily follow along and work independently! Simply flip to the first page in the laminated flipchart and follow the illustrated instructions. Mark with a check when completed and flip to the next page!
Children love knowing exactly what to do and enjoy the immediate sense of accomplishment as they flip the page.
Full color flipchart is divided into Living Room/Entry, Bathroom and Kitchen Zones. Each Zone offers blank lines for daily jobs that Mom can customize to fit perfectly to your specific family needs.Includes everything, right down to the dry-erase marker!
Zebra Lap Book
by In The Hands of A Child
In the 49-page Zebras Project Pack from In the Hands of a Child, you will find a 9-page Research Guide and 16 hands-on activities that explain the anatomy of a zebra, different types of zebras, range and habitat, diet, behavior, and much more. Is a zebra really just a horse with stripes? You will also find the answer to that question!
ABC's of Proverbs 31 for Girls
by Susan Sikes
Let your daughter discover how Proverbs 31 applies to her. This e-book is written in the simplistic approach of an A,B,C book. However, the vocabulary and application is directed toward the teenage years. Because of the simple A,B,C format, it is a book you can read when you are short on time, or you can sit down and spend hours in it.
Bath And Body Works
by Gwen
8 fl. oz. Cherry Blossom creamy body wash
8 oz. Cherry Blossom body cream
8 fl. oz. Cherry Blossom body splash
Pregnancy Journal
by Faith And Family Books
A personal journal for you to keep during your pregnancy and pass onto your children.
Bee Strong Bee Pollen Superfood
by Supermom's Health and Wellness
Bee Strong: Bee Pollen Superfood – 250 Capsules – 500mg each.
Classified as a superfood, our Bee Strong bee pollen contains: 22 amino acids (including the essential eight), 27 minerals, all the vitamins, hormones, and fatty acids you need, and best of all, more than 5,000 enzymes and co-enzymes which health experts credit for healing and regeneration from virtually any health problem but which are mostly absent from today's diet.
Bath And Body Works
by Gwen
4 fl. oz. 4 oz. bottle of White Cherry Blossom Body Lotion