http://busingers.ca/13.php The "P" word! And you are wondering… oh no, is she going to start talk politics? Is it going to be more talk about Sarah Palin? Nahhh! I want to talk to you about price books. Yup… price books. What? You don't know what a price book is? Get yourself a fresh cup of java and I'll tell you all about it. It's not too difficult, but I always like a good excuse to enjoy a cup of coffee with a friend.
buy accutane online usa A price book is a notebook of sorts, in which you write down each item you purchase and at what store. I also like to write down the cost per ounce so I can compare easily. You can categorize the book by store, product, or categories, such as cleaning items, canned foods, etc.
Amy Dacyczyn (pronounced Da cision), author of the Tightwad Gazette, gave me this idea and it has worked well.
The idea behind the price book is that you can accumulate the cost for each of your most common items, thus determining where the best prices can be found. When something is on sale, you will know if it really is a good deal. You eventually get a sense of what is good and what is not.  I have used it to create goals for how much I spend on meals. My goals might be $3 for each breakfast and $3 for each lunch and $9 for each dinner. Your mileage may vary. At least with a price sheet, you will know where your money is going.
Another aspect of using this price book is that you can see seasonal trends for items. Produce are not the only items that fluctuate in price for the season. Turkey, ham, potatoes are just a few items that fluctuate according to the season or time of year.  You will learn when the best time is to purchase these items. Stock up! Plan ahead!
I have provided this price book for you in a .pdf format for your own use. If you prefer it in Excel, which can also be opened in Open Office, click here. Feel free to print, copy, distribute. I simply as that you not remove the copyright information and website at the bottom of the page.
Other reading on the topic can be found at the following:
Wait, I'm not quite done, yet. There's another part of this picture. I have found a great little free program, which installs quite easily, wherein I can take all my data and set it up on the computer. The program can is simply called Shopping List and can be found here.
The program is optional. It depends on what you would like to do and if you prefer to use the paper notebook solely. I like lists. I like options. I know that if something happened to my notebook, I have a back up.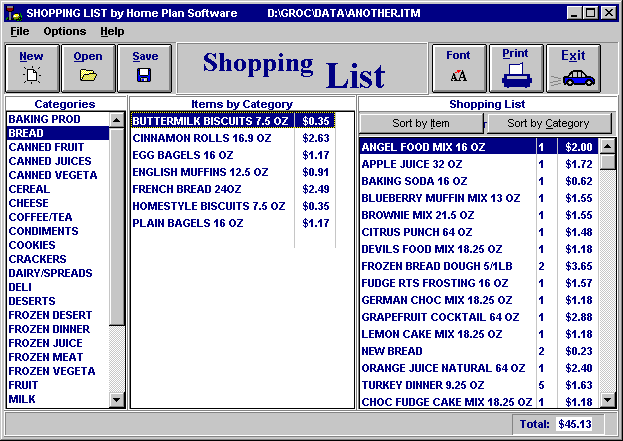 This program allows you to put in all your grocery items by categories. I will add an item so that it will say, for example:
Eggs Albertson's 5doz. $8.19
Eggs Costco 5doz. $7.79
Eggs Walmart 5doz. $8.22
In this way, I can compare at a glance and make my shopping trip according to where I can get the best prices.
After I have all my information in, I can drag the items I need to shop for into the right hand area, as you can see in the image. This is my master grocery list. When it prints, it will list everything, including prices and the locations to shop (as I just described), as well as the prices by category. Plus, it will calculate the total at the bottom, so I know what to expect to pay when I go out.
Happy planning and shopping!